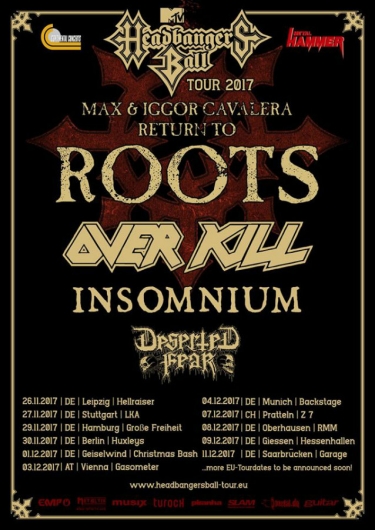 Im Rahmen der "MTV Headbangers 'Ball Tour 2017" werden die ehemaligen SEPULTURA Mitglieder Max Cavalera (Gitarre, Gesang) und Igor Cavalera (Schlagzeug) im November auf Europatournee gehen, um das zwanzigste Jubiläum des klassischen Albums "Roots" zu feiern. Die Jungs werden dabei "Roots" komplett spielen. Desweitern sind OVERKILL, INSOMNIUM und DESERTED FEAR mit auf Tour.
Max sagte in einem Interwie mit FaceCulture: "Roots" album twenty years later. He said: "Yeah, [the personal stuff around the band] was chaotic, but musically, it was good. I think 'Roots' is an excellent record. It's a very brave record. It's a very fearless record in terms of saying, 'We're gonna do this. No matter what people say, we're gonna do it.' And we did it. And it was a huge risk. Not many bands take that risk. And we stuck to our guns and put the album out. And I think it was a very interesting record, because I think it was the beginning of my experiences in world music, which I really love, and bringing metal… making metal different. You can combine indigenous sounds and stuff with metal and make something cool with it. So I think 'Roots' was the blueprint for all that; it was like the first one that was like that. We went to the Xavantes tribe and recorded with them. It was killer. It was an amazing experience."
Hier die aktuellen Dates!
Nov. 26 - DE Leipzig Hellraiser
Nov. 27 - DE Stuttgart Lka
Nov. 29 - DE Hamburg Große Freiheit
Nov. 30 - DE Berlin Huxleys
Dec. 01 - DE Geiselwind Christmas Bash
Dec. 03 - AT Vienna Gasometer
Dec. 04 - DE Munich Backstage
Dec. 07 - CH Pratteln Z 7
Dec. 08 - DE Oberhausen Ruhrpott Metal Meeting
Dec. 09 - DE Gießen Hessenhallen
Dec. 11 - DE Saarbrücken Garage
HAMMER HART! Auf jedenfall muss man hin :D